The Milwaukee & Madison Wedding DJ Frequently Asked Questions
When planning your wedding or special event there are many things to take into account, including music genres, song selections, lighting, and other special entertainment enhancements. Below are a list of questions we commonly receive from our Milwaukee and Madison DJ clients. Read below to see if your questions are answered. Any questions not covered below can be answered using The Milwaukee Wedding DJ contact form. Or call us at 414-202-3675. When you schedule an initial consultation we will discuss any other questions, concerns or ideas you have.
Contact The Milwaukee Wedding DJ Company to ask a specific question about our Milwaukee or Madison DJ services.

What Components Do We Need To Make Sure Our Venue Has For Your Electrical Equipment?
A: Our systems require (1) 120 vac/20 amp grounded electrical outlet. Almost all venues are equipped with these standard outlets. Our Milwaukee and Madison DJs will ensure everything is setup properly prior to the start of your event for superior and flawless entertainment.

Will You Dj The Ceremony As Well As The Reception?
A: Our Milwaukee or Madison DJs provide a sound system and DJ service for the ceremony as an optional item. As long as the ceremony is at the same location as the reception we typically will cover music for the ceremony as well.

Will you be the "MC" for the night announcing everything for us? If not, is there a separate charge for this or built into pricing?
A: We cover the event! Any announcements you need to make can be done through us or yourself using our wireless mic system. Additionally, this same system will be available to you for use during blessings and toasts.

What Is The Service Area Of Your Milwaukee And Madison Djs?
A: We provide wedding DJ and special event DJ services to all of Central & Southeastern WI, and Northern Illinois. That isn't to say we ONLY do events in that area (we've done events in Platteville, The Dells, Green Bay, etc.). Just let us know where you're event is and we can negotiate something fair if its going to be a hike for us to get there!

Do You Charge Hourly Or By Event?
A: The Milwaukee Wedding DJ Company charges by the event, prices are determined accordingly. We think it's silly to charge by the hour for such an important event, so when you're booking The Milwaukee Wedding DJ, you're getting us for the whole event! While each event is different, generally this includes: Cocktail hour, Dinner Music and Reception. Ceremony coverage can be covered as well provided its on location with the reception (as with everything, we'd hash out the details with you as needed).

What percentage of total payment is required to secure you as our DJ? When is final payment due?
A: The Milwaukee DJ Company requires $200 down initially and the remaining balance due 30 days prior to the event (unless paid in cash, then the balance is due the day of event, prior to the festivities).

Are There Any Hidden Fees?
A: No, absolutely not! The Milwaukee Wedding DJ Company is upfront about all costs from the very beginning.

Do You Want To Survey Our Set Up Before The Wedding?
A: Yes. If possible our Milwaukee or Madison DJs would like to meet you at the venue to review event details. We schedule a time to meet at the venue and go over the details to ensure there are no last minute changes. We do everything possible to ensure your night goes off as planned, without a hitch!

I have no idea where to begin with music. Do you have any top wedding hit lists?
A: We've got this! This might be the most common stressor for engaged couples when talking to DJs, but The Milwaukee Wedding DJs have been doing this for a long time and we know from this experience how to read crowds and adjust music preferences accordingly. You DO NOT need to worry about what music to play at your reception (that's why you hired someone after all, right?), but certainly if there are specific songs you want to hear (or don't want to hear...) we will cover those for sure!

What If We Want To Play Special Songs You Don't Have On Your Database Of Music?
A: Thanks to all of us basically having a computer in our pockets, Our Madison and Milwaukee wedding DJs can play anything provided on a phone, iPod or available on the internet. Typically if you know ahead of time of a special song you want played we will cover that in our questionnaire ahead of time. But if we get to the night of the reception and you would love to hear something that happens to not be in our play list, no worries, we can stream it!

Would we be able to have a consultative meeting with our Milwaukee or Madison DJ?
A: You bet! Our Milwaukee and Madison Wedding DJs do whatever it takes to make sure you're comfortable and confident that the entertainment we're providing for your big event will make you happy!

Would you meet us at the reception facility to discuss room layout?
A: Absolutely!! The Milwaukee Wedding DJ does everything possible to make sure your big night goes perfectly and there are no unwanted surprises.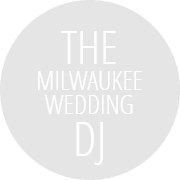 414.202.3675
PO Box 364 Pewaukee, WI 53072
Copyright © 2018 The Milwaukee Wedding DJ. All Rights Reserved