Testimonials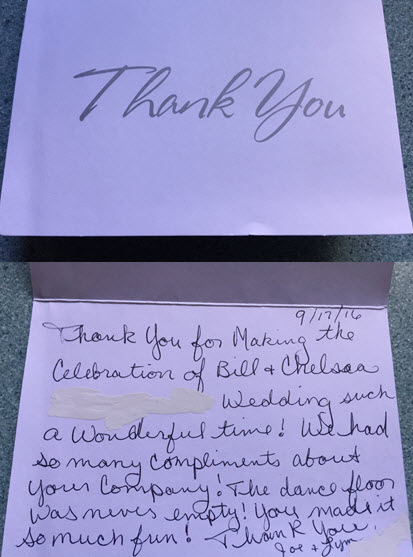 When asked what we pride most in our company, hands down the answer is our impeccable customer reviews; we can tell you how great we are and why you should book us vs. a competitor, but when it comes down to it that could just be good salesmanship, right? Our customer reviews are 100% positive on TheKnot.com and in person which is the biggest seal of approval you could hope for in this industry. We take creating a memorable night of fun entertainment seriously and want nothing more than to make you ecstatic with your choice of The Milwaukee Wedding DJ. Below are very recent testimonials we have received by some of our clients.
Contact our Milwaukee and Madison DJs today to book your wedding or entertainment event or call 414-202-3675.
They were always very quick to respond to our questions and professional! We booked due to price and their responses to emails. Matt was our actual DJ for the wedding, and he kept the reception running smoothly and played music that we liked throughout the whole night!
Matt DJ'd our wedding this past weekend and did a great job. The sound for the ceremony was perfect and the dance floor was full the entire night. We also used their photo booth which was more of a "tent" than the standard small booth that people squeeze into. They gave us a free memory book with a copy of everyone's pictures from the night. I ...
Excellent job with the ceremony music as well as the reception. I would highly recommend!
The Milwaukee Wedding DJ had the dance floor packed the entire night at our wedding reception! We received so many compliments from guests on the music selection and how much fun they were having. We couldn't have asked for a better DJ/music experience and I would recommend the Milwaukee Wedding DJ to anyone!
The Milwaukee Wedding DJ was the perfect choice for our August 13th wedding. They were so receptive to our music choices for both the ceremony and reception that it made the whole day easy! Our dance floor was packed until the last minute! He came prepared with all the room up-lighting and dance floor lighting and speaker set up that we needed...
Jay, The Milwaukee Wedding DJ, did an amazing job. I couldn't believe how many people kept dancing for sooo long. He varied up the songs and was quick with the requests I made. Plus, I had some really obscure songs for the ceremony and he nailed all of them. We received quite a few compliments about him. Couldn't be happier. Very highly recomme...
Awesome DJ! My husband and I worked with Matt and he was extremely easy going and easy to work with. He always responded to our inquiries very quickly. We received so many compliments on our DJ. The dance floor was never empty! I would definitely recommend Matt and the Milwaukee Wedding DJ company!
Jay did a wonderful job playing music at our wedding. Our dance floor was absolutely PACKED all night! He was smooth, efficient, and reliable! I would book him again in a heartbeat!
I am so thankful for everything that Matt and Jay did at the wedding. They were very professional, energetic, got everyone on the dance floor, and helped out a great deal with the wedding. From arranging the music outside for the ceremony to helping coordinate the speeches at dinner, they did it all. The photo booth was also a huge hit. Anytim...
We were so impressed with Jay and The Milwaukee Wedding DJ! He was on point all evening and kept the dance floor full. He took all our suggestions and played everything he could. We had so many guests telling us how great he was. Even my dad was impressed which is hard to do since he always wants you to go the band route but he had nothing bu...