Testimonials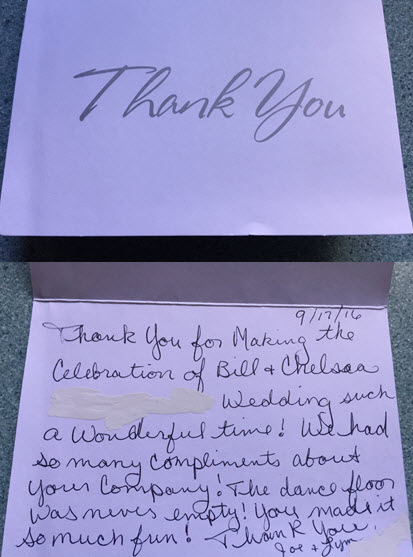 When asked what we pride most in our company, hands down the answer is our impeccable customer reviews; we can tell you how great we are and why you should book us vs. a competitor, but when it comes down to it that could just be good salesmanship, right? Our customer reviews are 100% positive on TheKnot.com and in person which is the biggest seal of approval you could hope for in this industry. We take creating a memorable night of fun entertainment seriously and want nothing more than to make you ecstatic with your choice of The Milwaukee Wedding DJ. Below are very recent testimonials we have received by some of our clients.
Contact our Milwaukee and Madison DJs today to book your wedding or entertainment event or call 414-202-3675.
We specifically requested a no play list at our wedding and they made sure none of those songs were played. They put up a monogram of our initials on the ceiling of our venue at the Botanical Gardens which was pretty awesome. They worked well with us and did everything we asked for. Having more than one DJ was nice because the music ran steadily th...
We are all about the music so when working with Jay for our wedding this past June, we wanted to make sure he would be accommodating. We provided a detailed list of ALL the songs we wanted and some of them were hard to find. He found all the songs and played them out in a way we never could have imagined! The whole party was dancing and the music w...
We worked with Jay and his team for our wedding day in July 2014.They were very professional and helpful from the beginning to end. They helped us pick out music as we weren't sure exactly what we wanted and did the uplighting at our venue- the Hotel Sheraton in Brookfield, WI. They matched color of uplighting with our wedding colors and it really ...